Ebb and Flow
Commemorating D-Day and its preparations in Gosport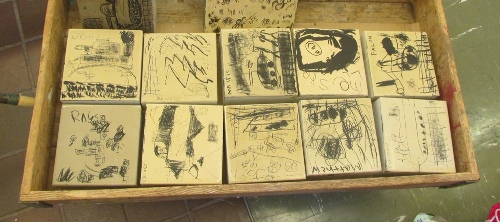 It has been a complete pleasure for me to be the Supporting Artist for the Ebb and Flow project in Gosport.

The project commemorates the 70th anniversary of the D-Day landings and Operation Overlord. I have been assisting lithographer Mary Dalton and Lorna Franklin (Project Manager) on this Arts Council funded project to work with a range of school and community groups to produce artwork inspired by memories of D-Day from Gosport Residents.

During the school workshops, primary age children have been producing dry point prints to show different aspects of the D-Day preparations and we also worked with a number of different community groups in the area. It was a great experience to support children from Heathfield Special School to create lithographic stones which were on display in the exhibition at Gosport Gallery. I was also lucky enough to meet some of the people who were children during the war and helped them to record what they remembered of D-Day in drawings and writing.